Submitted by
Kilian PhilosopherSeeds January 25, 2016
Plants with microscopic mites
Cannabis crops need optimal temperature and humidity parameters in order to remain free from pests andmolds, otherwise they might be attacked by many infections. Knowing the different pests that may attack our plants is crucial for choosing the correct treatment for each type of pest. This is why you should always have amagnifying glass at hand to check both the surface and the underside of the leafs, so you can detect any parasite on your plants.
When we speak about mites, we normally think about these small mites that we can find everywhere in our home, or the renowned red spider mites (Tetranychus Urticae), which attack many types of plants including marijuana and that we'll discuss in a future post.
Here we'll se the different microscopic mites that can attack cannabis and become a true nightmare for the grower, since it is actually one of the worst problems that one can have in his grow room.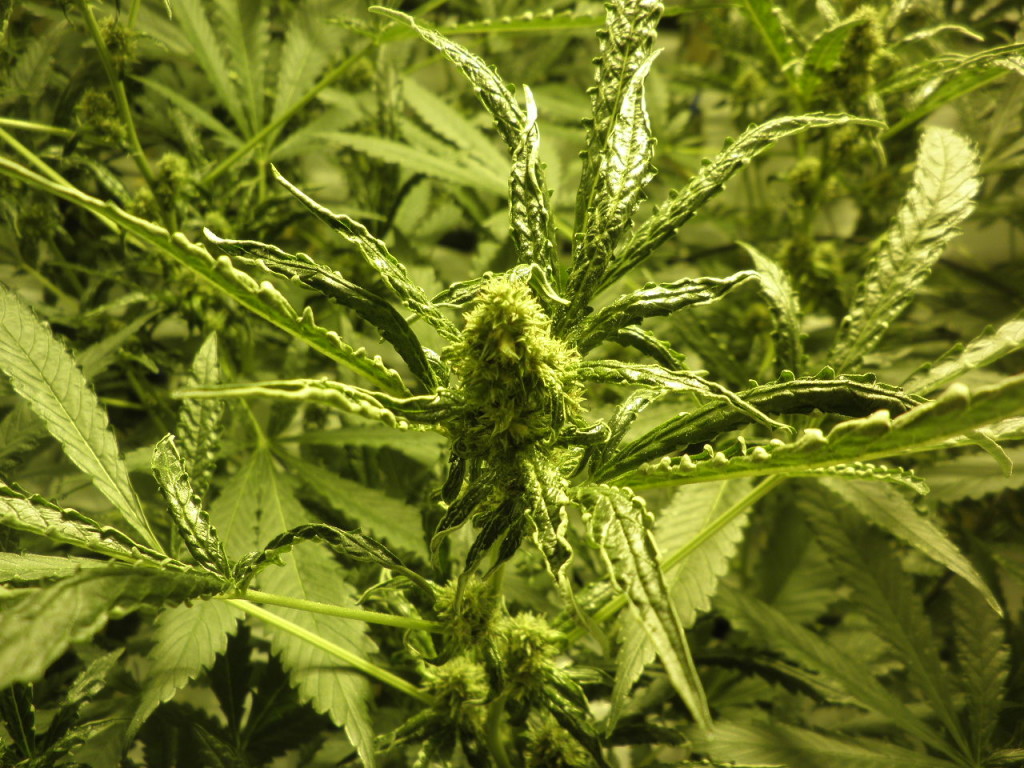 Microscopic Mites In Cannabis
How to identify microscopic mites
It should be noted that, if our goal was to decribe the taxonomy and biology of these subclass of arachnids, we would new a whole new post just for this purpose, so we'll focus on those mites considered as agricultural pest. We have basically three types:
Eriophyidae: Sexual reproduction, around 0,1-0,2 mm long, withish colour. They feed and live on live tissues, never on dead plant material. They are often viral vectors – virus carriers – of several plant viruses, and infect plants via saliva.
Tetranychidae: The most common type, in which we find the red spider mites orTetranychus Urticae. They have 4 pairs of legs and are about 0.5 mm long. They are sucking mites, and we can easily observe small yellow dots on the surface of the leaves from their bites. They prefer the underside of the leaves to live and reproduce (sexually). They have three different life stages: larva, nymph and adult.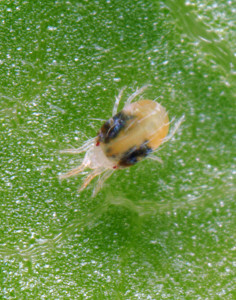 Tetranychus Urticae
Tarsonemidae: Small mites (between 0,1 and 0,3 mm), withish or yellowish-green colour. Females have 4 pairs of legs, while males have 3 pairs. Males are usually smaller and have a couple of rigid claws, with which they carry the nymphs (immobile stage between larva and adult) and hold the female during copulation.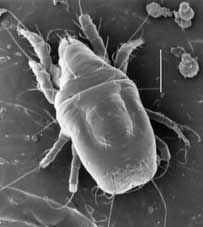 Tarsonemidae female
We are going to focus on eriphyidae and tarsonemidae, which are not visible to the naked eye – as happens with tetranychidae. We need a 50X-100X magnifying glass to observe them, otherwise they'll remain unnoticed until plants start showing symptoms of infection.
They often generate confusion among growers since we have several types of microscopic mites attacking crops:
Polyphagotarsonemus latus

. Also known as

white spider

or broad mite.

Polyphagotarsonemus pallidus

, or strawberry mite. May be confused with the former.

Calepitrimerus vitis

, or

grape leaf rust mite

.
Broad mite and cannabis
The first tarsonemidae identified as "microscopic mite" in cannabis crops. It may be confused with the strawberry mites (Polyphagotarsonemus pallidus). Premature detection is crucial to avoid major damages to the crops. They can act as viral vectors, carrying different viruses that could infect the plant via saliva, since they are sucking mites. The growth of plants is slowed down and leafs develop malformations and deformities, evennecrosis in severe cases.
Grape leaf rust mite in cannabis crops
This tiny eriophyid mite is able to reproduce in a wide range of environmental conditions. It is one of the most common pests in vineyards, and it has also reached many marijuana grow rooms. They can carry any type of plant virus and is really difficult to control once established in a crop. It inhibits plant growth, especially on younger shoots, and also flower and resin production. Leafs develop severe malformations and finally die if not treated right away.
Cannabis bud with mites
Management and treatment of microscopic mites in cannabis plants
To control the attacks of this devastating mites we must know the exact type of mite we are dealing with. We can find effective treatments in most cases, although if symptoms are severe we'll probably have to discard our plants and start from scratch.
Eriphyidae mites like the grape leaf rust mite (Calepitrimerus vitis) can be trated with:
Biological pest control: Mites from the ácaros de la familia de los phytoseids are commonly used: Typhlodromus pyri, Typhlodromus phialatus or Kampinodromus aberransattack this pest and help managing it. Never use pesticides that could hrm these predators.
Chemical pest control: These are the most effective active principles to combat eriphyidae mites:
Bifenthrin
Acrinathrin
Azadirachtin
Pyridaben
Sulfur
Azocicloestan
Fenbutestan
Hexitiazox (thiazodiline)
Fenpyroximato(fenoxipiridazol)
Flufenoxuron(urea)
Pyridaben
Propargite
Spirodiclofen
Abamectin
Tarsonemidae mites like white spiders (Polyphagotarsonemus latus) can be trated with:
Biological pest control: Use of Amblyseius swirskii and Amblyseius californicus is very effective, also against other types of mites, especially with high temperatures and low humidity levels.
Chemical pest control: Tarsonemidae mites can be effectively treated with the following active principles:
Sulfur
Dicofol
Endosulfan
Fenbutestan
Hexitiazox (thiazodiline)