Lets face it....sometimes one has no cannabis and has to get by with pain, discomfort and health problems.
Here is wh@ I hope will grow into a useful thread...
Please contribute if you can.
We can share our hints and tips and methods for getting by.
I'll start the ball rolling.
I suffer from a small cocktail of ailments, including an almost permanent ache and pain in my bones, osteo-arthritic pains and both shoulders have so regularly dislocated over the years I can put them back with reasonable competency...as I currently cannot get coconut oil to make rootbalm
[got lots of roots stored
hehhehehe]
, I am using other methods to get by.
Here is a product I am using...it is a
eucalyptus
spray
hehehehe almost all Ozzies get exposure to this wonderful product as a child...@ least they did in MY generation hehehe
[oh, fek!....does th@ comment mean I am officially

'OLD'

! :o muhahhaaha]
...it cleans almost anything from tar on the car, marks and stains, removes chewing gum from cloth and hair, treats cuts, stings, bruises, aches, pains, colds, and pimples
hehehe, it's possibly the ONE product in and of Australia th@ I would put in the SAME CLASS as cannabis as a macro
panacea
a plant th@ yields a product th@ has many and varied uses.
Bottles of it are available in all pharmacy's and most supermarkets here...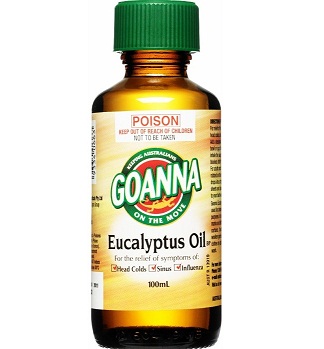 as ya can see...there are many brands and types around...
hehehe..
I spray all ma joints and muscles after a hot bath...excepting delicate areas...the backside, groin, face, inner elbows and backs of knee's....the rest of ma body cops a good spray
hehehe ...one can also rub it on straight from the bottle, but I like the spray, because it can reach my back with little effort
hehehe...for self application a spray is great...
It can also be used as a bath oil, an inhalant for congestion, a fly repellant, hehehe many uses...go google em
hehehe
2 Uses
2.1 Medicinal and antiseptic
2.2 Repellent and biopesticide
2.3 Flavouring
2.4 Fragrance
2.5 Industrial
Safety and toxicity

If consumed internally at low dosage as a flavouring component or in pharmaceutical products at the recommended rate, cineole based 'oil of eucalyptus' is safe for adults. However, systemic toxicity can result from ingestion or topical application at higher than recommended doses.[16]

The probable lethal dose of pure eucalyptus oil for an adult is in the range of 0.05 mL to 0.5 mL/per kg of body weight.[17] Because of their high body surface area to mass ratio, children are more vulnerable to poisons absorbed transdermally. Severe poisoning has occurred in children after ingestion of 4 mL to 5 mL of eucalyptus oil.[18][19]

from wikipedia
muA