Pollen can be collected, stored and used even after 3+ years effectively...
It can be used to make a pollenbank with either small or large quantities of pollen.
Pollen can be collected in a few ways
...with a plant in full flower it can be as simple as knocking pollen from the branches into a bowl
heehe
...other ways are to place a clean paper bag over a branch and shake it
...some people tie the paper bag around the branch and collect the pollen th@ has fallen the next day
...simple cardboard or paper can be placed beneath whole male plants in flower...
But it's never QUITE as simple as th@ for the small grower, is it?
...time spent growing a male is time
risked in many cases, as well as time and space wasted on a mere male plant, as opposed to the lovely
buds the ladies deliver...
But it DOES NOT have to be such a problem!
Collecting pollen is a fun, rewarding and worthwhile experience...first to just get it
done...collecting and saving ones first batch of pollen, but the possibilities th@ open up to one who
DOES IT!
...routinely saving pollen from good strains th@ deliver you a male will build a genetic
library
...true, it IS a library full of half codes
hehehe but it means th@ in the course of your
cannabis journey, you will find you accumulate quite easily a collection of pollen types
hehehe...
when it's EASY and you are COMFORTABLE doing it, collecting pollen will become something like
cracking beans, taking cuttings or growing plants
...the more you do it and become familiar with it, the
easier is is to do.
I would also recommend one start a seedbank as well as a pollenbank
...saving genetics is wh@ will lead
to newer strains
...and also saving older genetics will keep the genetic BASE of this breeding, strong
It's all a genetic crapshoot, GPeeps, and we all get our turn to play!
muhahahaaa...
So...
HOW to collect pollen on the small, hobby scale?
Well, here are some basics...
You will need some way to STORE the pollen...
There are many ways and means to store pollen
...all need one major thing...to be an airtight
container... hehehe
but there are containers and there are CONTAINERS!
hehehe...
Film canisters are an old fave
...small, sealable containers...though they are not ideal as they can be
prone to less than airtight seals...
Small tupperware containers can be used...
Small plastic sweet's containers like the tubes skittles and smarties come in
hehehe
I like to use accucheck blood test-strip containers
...they are medical grade plastic, take a range of
temps, have a great seal and are easy to label
hehehee
Another option I am going to try next is storing pollen in gelcaps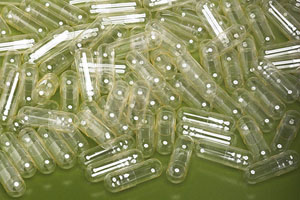 in accucheck containers
hehehe...
pollen should be dried before storing
...it will take anywhere from 1 day to 3 days for the pollen to
dry enough to store without it molding...
It depends on the humidity
...the higher the relative humidity the longer it takes to dry...
Do not put in the sun or under a light...let it dry in the dark.
A dry, airless area is best...no casual breezes.
You can put something in with the pollen when you store it, I use a large grain of dry, uncooked rice
with the pollen
...it will absorb any excess moisture th@ might be in the pollen storage
container
....this is even possible with gelcaps
hehehe
Label your pollen!
REMEMBER IT!
memories fade and can prove faulty...words speak for themselves...
INK WILL fade over time and with the cold...
PENCIL, however DOES NOT FADE
the pencil is your
friend
heheee
DO NOT use codes
...unless you write them down somewhere securely
...otherwise, write a full description
with year, month and possibly day, write the strain name or cross in full, with any history you know
of the strain...
Believe me, this will come back and pay you rewards as time goes by...
Once your pollen is collected and contained, it can be stored @ room temp for perhaps a week to a
fortnight with viability remaining...for a few weeks to many months if it is stored in the fridge or
even for years if stored in the freezer
Deep Freeze preferably.
I have used pollen stored in deep freeze as old as 3+ yrs after first collecting it hehehe it IS
possible!..
It IS easy!
...and it is FUN
...
When storing pollen one should also consider HOW one will use it when the time comes...
hehehe
Firstly...I advise storing it in as small as possible quantities...
You lessen the lifespan of the
pollen the more you freeze and defrost it...small portions can be fished out of storage, defrosted and
used
hehee
When you pull the pollen out of cold storage, be it freezer OR fridge, let the container reach room
temperature before opening it...if it is just out of the fridge/freezer then the relative
humidity in
the air might condense and render the pollen useless
...just sommat to watch out for
hehee
Carrier Substances
You can choose to add a carrier substance to the pollen
...do a google search and I am sure you will
come across alternatives, but I use plain cornflour, added to the pollen @ about a ratio of 10-1
cornflour/pollen
...though I have had successful pollinations @ a 100-1 ratio cornflour/pollen
It is advised to pollinate in a still-air environment
...leave the plants to sit 8 hrs to 24 hrs and
place back in the flower-room
...I am sure I get the odd unplanned for pollination this way, but the
branches I pollinate, I label with a twist-tie and piece of card, so know which seeds are which...
You could wash the pollen off the plants after a set time if you wish, but personally I think it's just
inviting mold hehehe a nono if @ all avoidable in my books.
For a viable seed to develop, it must generally grow 4 weeks minimum, though 5 weeks is better, IME
Sure, seeds grown for less than 4 weeks might sprout ok, but I have not really tried to grow young
seeds out if I can get 4-5 week old seeds...
So..as you need 4 or 5 weeks for the seeds to develop, you need to count BACKWARDS from the end of your
plants flowering time to find the time to pollinate.
If you were planning on flowering 8 weeks, count backwards from 8
8-7-6-5-4....so in week 3 or 4 of flowering on an 8 week flowercycle would be the time to fertilize the
buds
If you are growing a longer flowering strain, do the same thing..count back 4-5 weeks from last week of
flowering to arrive @ the optimum time to pollinate...
Of course you can pollinate earlier and grow the seeds even longer if you want...these are just
streamlined outlines on making seeds
Pollination can be done with a Q-tip dipped in the pollen/carrier, or with a clean small artists brush...one could even dab it on with your fingers if need be...
One could place the pollen in a paper bag and tie it around a branch, then agitate the branch and bag a few times over the course of an hr...
Searching the net will get you a lot of direct and indirect info on pollinating plants..
hehehe
The OG-FAQ is ALWAYS a great place to start a lil research..
https://www.greenpas...OG-FAQ/1015.htm
https://www.greenpas...g/OG-FAQ/33.htm
There are whole sections on pollen, breeding and seeds there
muhahaha
link is also in my sig.
Next post I will cover making an isolation chamber for your male and pollen collecting
muA
Collecting Male Pollen